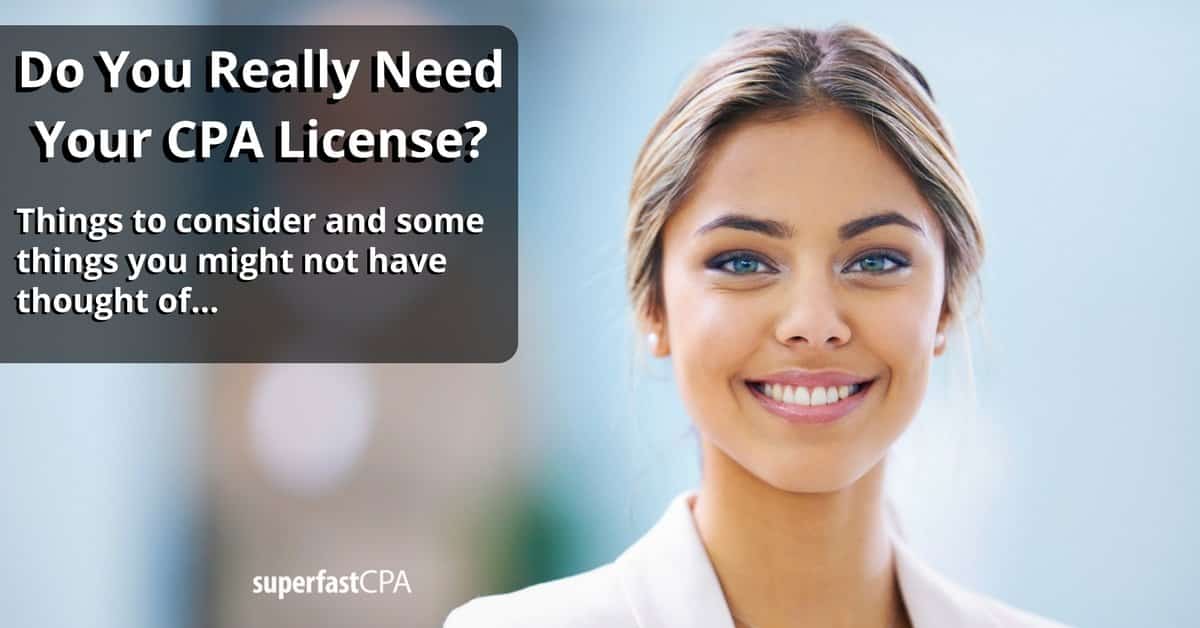 Grab our free guide to passing the CPA exams, even if you're extremely busy:
Every month I get at least a few emails that basically ask the same question:
"Do you really think getting the CPA license is necessary? I know this person and this person who makes this much or this much without it."
This is an interesting question, and the answer isn't as clear cut as you might think.
First of all, there are a lot of people out there who went to school for accounting and then did very well without every getting the CPA.
Just pulling from my own experience at a medium-sized firm, I've seen dozens of people churn in and out of public accounting at all levels; from new staff to partners. Obviously, anyone I've known that was a manager and above had their CPA, but from senior and below it's very mixed.
I've read several articles on this topic, and they mostly just list a bunch of stats and all come to the same conclusion: that a bigger and bigger percentage of people who initially plan on getting the CPA end up not ever finishing it.
That's not really a surprise: the CPA exams are extremely difficult, and with fail rates right around 50%… that simply leads to a lot of people never finishing the exams that had previously planned on it.
---
These are my own personal opinions, but here are a few considerations based on my own experience:
Do you want to stay in public accounting?
This one is pretty simple. If you want to move higher than senior in a public accounting firm, you will have to get your CPA. Not an option otherwise. And, getting your CPA before you're a senior can be a major catalyst to getting promoted to senior. And the faster you get it, the "smarter" everyone thinks you are
Are you in tax?
This one is also simple, if you're a tax person, you pretty much need your CPA to be taken seriously later in your career.
Do you plan to move outside the accounting track?
While it is possible to move up in the accounting hierarchy at certain companies without the CPA, you probably won't become a controller, and you definitely won't become a CFO without being a CPA. That being said, it's not unheard of for someone to start in accounting at a company, and at some point move out of accounting and into management. Those roles won't require a CPA- but they will definitely require other "intangibles".
Which type of person are you?
In public accounting, there are basically two types of people: number droids and then accountants with soft skills. I remember one instance in my MAcc where I was complaining to a friend about a group project, and I described my group as "2 number guys and the rest of us don't know what's going on." He looked at me really confused and said, "it's a Masters degree in accounting – aren't all of you 'number guys'?"
But, there's some truth there. There are some people at every firm that would much rather work in Excel all day then talk to clients or attend a bunch of meetings and have to talk to other people. Or the dreaded "business development". If you can't imagine having to generate new business or get new clients as part of your job, then you definitely want to get your CPA.
If you're very much a "numbers person" and don't really thrive in social situations, it would be extra important to get your CPA.
But, no matter which type of person you are, the CPA designation can only help no matter what the future opportunity is.
Plan on figuring some other things out
Going back to my observations at my own firm, the people who left public accounting pre-CPA went into industry as a "staff accountant" or a "accounting manager". They jumped about $10k in salary, but they'll likely either need to move out of accounting to move up much beyond that, or eventually get the CPA
It gets harder as time goes on
These same people have a vague goal of still getting the CPA "at some point", but the reality is that it gets much harder with every year that goes by after you get done with school. So, there's nothing inherently wrong about deciding you're just not going to get the CPA, but if you still tell yourself you're "gonna do it eventually", quit messing around and just get it done
---
What guided my decision to get the CPA as fast as possible
For me personally, there were a few logical points in my mind that drove me to get finish the CPA exams as fast as possible.
I had spent several years of school and $40,000+ on a Bachelor's and Master's in accounting, so I saw the CPA as the logical end-goal of all that.
No matter what the future opportunity is, being a CPA is a big advantage and gives you a lot more credibility/prestige/perceived value compared to other applicants
The whole Becker thing about making a million more in your working life than a non-CPA. Who knows if that's the exact number but the theory behind it is sound: as a CPA you'll simply have better opportunities/better chances at getting the higher-paying positions. And getting them faster than non-CPAs
These were things I couldn't get out of my mind, and were the reasons I worked so hard to get the CPA done as fast as I could
---
The 2 Biggest Reasons to Get Your CPA
There are 2 big reasons that no one can argue with, and provide an immense long-term return on the months you spend passing the CPA exams:
You will always have a stable job, with an above-average salary
You will always make more than a non-CPA in whatever position you're in
If someone that's your equal in years of experience makes an average of $70,000 per year, you'd be around $7,000 higher. That's a big ROI year in and year out for just a few months of suffering (referring to passing the exams).
For strategy tips and how to approach the entire CPA exam process, grab our free strategy guide here:
Review Course Recommendations
There are two review courses that I think are far and away better than other options.
First: Roger CPA Review
Roger is known for his very high-energy lectures, which make otherwise pretty boring topics easier to pay attention to.
Learn more about Roger Review here...
Second: Wiley CPAexcel
This is the review course I used, and it covers the information very well, and the big, big thing: They let you keep access until you pass. Other big-name review courses do not offer that.