Creating an effective CPA study routine is hard, but it's even harder if you're already extremely busy. In this episode we'll cover how to create an effective CPA study routine, even if you're extremely busy and have limited time to study each day.
CPA Study Schedule While Working Full-Time
So just today, actually I got this email from Bashir: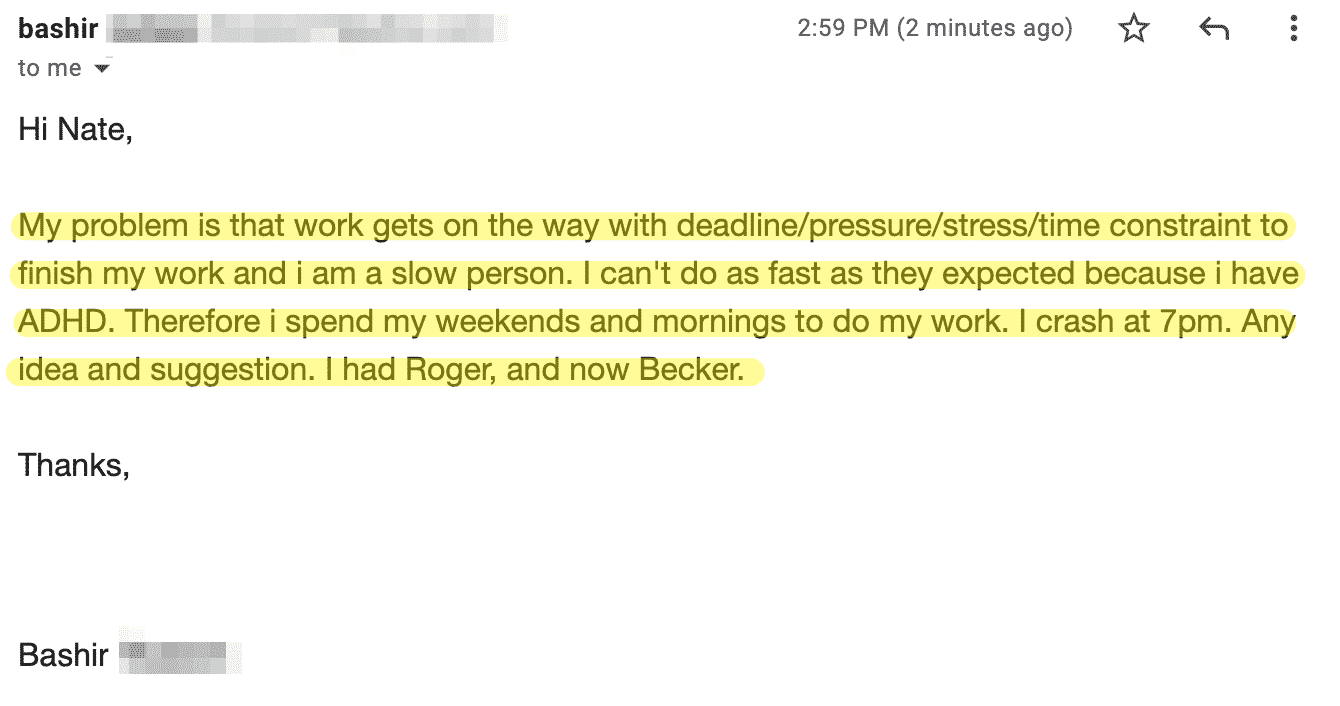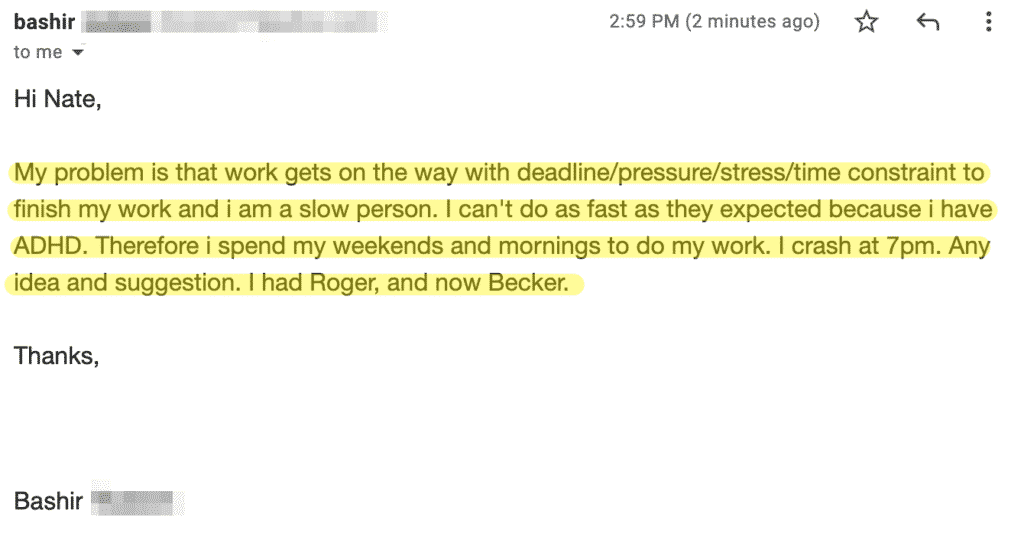 Bashir says, "Hi, Nate. My problem is that work gets in the way with deadline, pressure, stress, time constraints to finish my work and I am a slow person. I can't do as fast as they expect because I have ADHD. Therefore, I spend my weekends and mornings to do my work, and then I crash at 7:00 PM. Any ideas or suggestions?"
Now this is a very common email or very common thing that I get asked. Someone will say, "I feel like I almost don't have any time outside of work, so how could I possibly study for and pass my CPA exams?" Now, if somebody is asking me that question, I'm assuming that that person really, really wants or even needs to pass their CPA exams. So the first thing that you need to realize or accept is that you're going to have to make personal concessions, or there's going to be a decent amount of self-denial involved.
Step 1: Create 2 Hours in the Morning
And that brings us to step one, which is you need to create two hours in the morning where you can sit down and study no matter what that takes. Now in Bashir's example where they say that they crash at 7:00 PM, so I would assume that they're done working, they do something like maybe they watch TV or they hang out with a significant other, maybe they go to the gym.
I mean, whatever, it just kind of sounds like by 7:00 PM Bashir's brain is turned off from doing anything productive, and, that's a lot of people's situation. So, creating two hours in the morning where you can sit down and study first thing that might require that whatever it is that you do at night to refresh or recharge, if that's watching Netflix or just scrolling through social media aimlessly on your phone, whatever that is, you stop doing that an hour earlier, and then you wake up an hour earlier.
The key thing is that this all comes back to is how bad do you really want to pass your exams? Or how bad do you need to pass your exams? And that's a small concession to make, especially. For a six to eight month timeline, maybe even shorter, when you adopt our strategies and our study tools. Now I could go on and on about all the benefits of studying in the morning, but Bashir's email is a testament to why you would want to study in the morning in the first place.
Passing your CPA exams is for you. It's going to benefit you throughout your whole career. You're going to earn more every single day of your working life by just buckling down for a few months. Even if it took a year, it's still totally worth it because you're going to make more for the rest of your career.
So you want to prioritize that and give it your best focus. You want to apply your top tier brainpower to studying for your CPA exams. So you would do that first thing in the morning when your brain is it's most fresh, you've just woken up. I mean, your mental horsepower is at its peak first thing in the morning.
So you dedicate the first two hours of your peak mental horsepower to this personal thing that's going to benefit you. So you sit down, you do the two hour study session, and that brings us to step two which is you create the two hours, step one is more about figuring that out, rearranging your day, cutting things out, whatever you have to do to create that two hours in the morning.
Step 2: A Highly Efficient 2-hr Study Session Each Morning
And then step two is, you figure out how to have these two hour highly effective, highly efficient study sessions in the morning. So two hours on weekdays and you knock out your big, your most important task for the day so that you're not leaving it for the evenings when like Bashir said, your brain is fried, you can't even get yourself to sit down and study anymore.
Or even if you do, it's probably not that effective. Across all of our other videos and podcasts, I constantly rant about why you should study in the morning. And there's just endless reasons why it works better, why you should study in the morning. So as far as how to study for those two hours in the morning, again, I could go on a big diatribe about why you shouldn't follow the traditional study approach, why we might have some really good ideas on how you study more effectively, more efficiently, but that's kind of a long explanation to go into all those strategies. So the best place for that if you have not yet, sign up for one of our free study training webinars where we will walk through that in detail.
These are like one hour trainings where I walked through our study framework, how to use your main review course, whether it's Becker, Roger, Wiley, Gleim, whatever it is, how do you use your main review course much, much more efficiently and much more effectively. So there should be a link to those trainings down in the description below.
Step 3: Mini Sessions Throughout Your Day
Now, step three is going to be mini sessions throughout your day. You've probably heard me rant about this as well. But this only makes sense. We all have smartphones that we carry around and you get your screen time report at the end of the week. And you look at that and it's usually pretty embarrassing. You know, even though I feel extremely busy or I am extremely busy, somehow I found three to four hours a day to stare at my phone, apparently in little three or five or 10-minute chunks.
So the idea with that is you get effective study supplements that you can actually use from your phone. The SuperfastCPA study tools were created specifically for this purpose because when I was studying, that was the thing that just kept bugging me was, okay it's so hard to find dedicated study time outside of work to sit in front of my review course.
I really wish I had something that was effective and efficient to study from my phone because I look at my phone, three to five times every hour for three to five minutes at a time. And I just knew that that was really adding up. So that's the idea, and person after person on our podcast interviews, if you've seen any of those, they all talk about how helpful it was.
And this is obviously a strategy that helps you fit in extra study time because you do the two hours in the morning, and then let's say you commute to work. You listened to the audio notes for whatever it is, half hour or an hour on your way to work, now you're at three hours of study time for the day.
Then throughout the day, instead of reading ESPN or scrolling through TikTok or whatever it is you do to waste time in those three to five minute chunks on your phone, you switch that with reading review notes on the app or taking quizzes on the app. Ideally, you should do a mix of both. We talk about that in other videos, but you keep racking up study time in these three to five, 10-minute chunks.
So as you go through your normal day, you might add in another hour or two hours doing that. So you're already at four to five high quality study hours, and then your commute home, you listen to audio notes again. Now a lot of people now aren't commuting, but people go out on walks on your lunch break while you're doing normal things around the house.
You can have headphones on and be listening to the audio notes. And again, this might not sound like a super fun use of your time, but I'm telling you, or I would just bring you back to the idea of how bad do you really want to pass these exams? And if you really just buckle down and basically spend all your free time for this 5, 6, 8 month period, you get really concentrated and you are just constantly running CPA material through your head.
You will get through the CPA exams much, much faster, and you can get this over with in 5, 6, 8 months, instead of it taking a year or more. Now, again, if you've done all this four to six high quality study hours that you have accomplished by the time you're done with work for the day.
Step 4: Take The Evenings Off
So then step four is to take the evenings off. A full mental break and you can feel good about it and completely disengage your brain from anything CPA study related, you know, and take the two to three hours off in the evenings.
Not even think about it. Do some of the things that you would normally do because you have been very, very productive CPA study-wise throughout the day up to that point. And when you start to study like this and you give yourself that full mental break in the evenings, you will feel much better about life in general, but specifically the study process. Because it won't constantly be wearing on your mind and weighing you down and feel like a weight hanging around your neck all the time.
Step 5: Light Review Before You Fall Asleep
Now, step five is somewhat optional. I mean, a lot of people on our podcasts that I've talked with, mentioned that when they were falling asleep at night, they would do some kind of light review. On those study trainings you'll see that one of our big strategies is to write flashcards in your own words for concepts that you struggle with. And reviewing those flashcards that you've written is a very productive thing to do, but it's, it's pretty light as well. It doesn't require a bunch of mental horsepower.
So as you're laying in bed trying to fall asleep, you could read our review notes, take a few quizzes, review some of your own flashcards that you've written in your own words. Just something pretty light and the benefit is it's going to make you pretty sleepy coming back to the CPA stuff while you're laying in bed.
It's going to help you fall asleep better than watching Netflix and something that gets your mind really active.
Step 6: 4-6 Hour Block on the Weekends
So step six is just the weekends. So going along with the ideas here, you want to do a four hour session. So you'll take the two hour session from the weekdays that you will learn in those free study training webinars.
You'll just do two blocks of that or if you can fit it in, it's better to do three blocks. So six hours. But again, you want to do that very first thing on Saturday and Sunday, get it out of the way. I mean, if you get up at 6:00 AM or 7:00 AM or 8:00 AM, you can be done by noon. And again, after you've nailed it for the day, take a full break for the rest of those weekend days.
And don't think about CPA study. But again, if you listen to the podcast, a lot of people say that they really like our study tools for the reason of there's no dread factor. Several people have mentioned they'll go skiing or mountain biking and they'll listen to the audio notes while they do the things that they really love doing on the weekends.
So there's just no dread factor to doing these little mini session things on our app on your phone as you do some of the things you would normally do anyways.
Final Thoughts
So to Bashir or anyone else who feels like they don't have the time to study for their CPA exams, but they really, really want, or really, really need to pass their CPA exams, the answer is creating a flexible study schedule. Most people don't realistically have four or five hours a day to sit in front of their review course, these dedicated chunks of five hours, you are spending, two to three to four hours a day, staring at your phone in these little chunks. So while you're trying to pass these exams anyways, you just switch that time for more CPA study or CPA review.
Make sure that you get passing scores your first time around and get them out of your life forever, quicker. So you do that throughout the day and by the time you're done with work, you have had a very successful study day and you take the evenings off, you take a complete mental break, then you do your four to six hours on the weekend days.
And that is how someone who is extremely busy can very realistically still pass their CPA exams. And again, just go listen to some of the other podcast interviews that we've done. We have a lot of very, very busy people on there that have adopted these same strategies and have passed their CPA exams. So if you found this helpful, subscribe to our channel, share this video with someone you know who is also working on their CPA exams and down in the comments below, what are your strategies for fitting in your study time?
Do you have a specific daily routine or is it always different? And if it is always different, do you still stay on track with your study plan? Just leave a comment below and describe your own study routine or the things you struggle with as far as sticking with your study routine. So thanks for watching and we'll see you on the next video.