Every SuperfastCPA Product for All 4 Sections, AND the Study Hacks Course
If you have all 4 sections left, this is what will help you the most. You'll be able to read the review notes and take quizzes on the go, print out the notes and use them to get the "big picture" for every topic very quickly, and you'll be able to listen to the audio notes many times through whenever you're in your car. This also comes with the full Study Hacks course, which walks you through exactly how Nate studied to pass the 4 exams in 3 months.
*only while discount is available
60 Day SuperfastCPA Guarantee
Use our products in your study routine for a few weeks, and if they aren't making a significant difference in how well you're understanding and retaining the material, we'll refund your investment within 60 days.
Other review products offer little to no refund options, so either our products will actually help you, or we'll give you your money back.
"I just passed FAR using the SuperfastCPA notes & audios. I was working about 80 hours a week on a tough project so I would listen to the audios any spare chance I had... and I didn't think I was going to pass, but I did"

Nikki

"My name is Jared, and I'm a CPA. I pretty much have every bit of that thanks to SuperfastCPA. I highly recommend SuperfastCPA. I purchased the study materials and it was absolutely worth every penny"

Jared

"Before beginning the CPA I felt very overwhelmed with the amount of content that would be tested. I decided to purchase SuperfastCPA notes to supplement my review course. It really helped me retain the information I was learning. I passed REG and now I'm studying for FAR. I would highly recommend making the investment in SuperfastCPA."

Sarah

"I work full-time as an accountant, and the SuperfastCPA notes have really made things so much easier. I've passed FAR and AUD, and I really don't think I could do it without it."

Andrew

"I got the review notes & audio notes. I was skeptical at first, I didn't think you could get the information you needed in that short of time... but I was pleasantly surprised... and hey, I passed. I can say this... it is the best purchase I have made for my CPA study dollar I have made..."

Christine

"I'm an avid believer in SuperfastCPA... I took FAR 4 times and I did not use SuperfastCPA... I knew I didn't have 4 times to pass all the rest of them... I decided to look for a supplement to the material I already had, and I found SuperfastCPA. I ended up buying the notes... you can open them in the app so I could read them on my iPhone whenever I wanted... I'm super busy so having the notes on the go was super crucial on my next section... I took REG and I passed it the first time with an 85, and I think that using the notes was really the difference. I'm an avid believer in the notes... you should definitely purchase them"

Katelyn

After failing REG, I looked online for supplemental materials that could condense so much information in an effective way... I came across SuperfastCPA online, and I decided to purchase the material for REG, BEC, and AUD and try it.(had already passed FAR) I passed BEC in 3 weeks, then I re-took REG and passed REG in 3 weeks, then I took AUD last and passed in 4 weeks. I definitely recommend SuperfastCPA.

Jovan
Created with a Question-Focused Approach

Instead of just a bullet-point summary like other review notes, our review notes & audio notes are based on exam questions, which means you'll always be reviewing the items you're most-likely to be tested on

Dramatically Increased Retention

Using our supplements 5 minutes at a time, many times a day will dramatically increase your retention and understanding of the concepts, compared to one long & usually ineffective study session each day

Created Specifically to Study On-the-Go

Our supplements are the only ones created specifically to use on mobile. Instead of trying to set aside 4-5 hours to study after work, you can cut your main session in half and make up the rest throughout your day by taking advantage of 5 to 10 minute windows

No Calculator Required

Our MCQs have been modified so that you don't need a calculator & scratch paper. You can easily go through questions with one hand and still be learning material by doing our mini-quizzes

Your Access Never Expires

Your access to the products you purchase will never expire

All Future Updates are Included Free

Rest assured that you'll always have access to up-to-date materials
Here's What You're Getting When You Add the SuperfastCPA Products to Your Study Routine:
UNDERSTAND THE "BIG PICTURE" FAST: When you read the review notes or listen to the audio notes, you are getting an easy-to-understand overview of the most important concepts from each topic.

REPEAT READING & LISTENING = LONG-TERM RETENTION: Forgetting what you studied weeks ago is now just a bad memory as you get repeat-exposure to the concepts from reading the review notes and listening to the audios through the course of your regular day.

FEEL CONFIDENT & IN CONTROL INSTEAD OF LOST & OVERWHELMED: When you use the products throughout your day, you are getting repeat exposure and coverage of what you're most likely to see on exam day. And when you apply the Study Hacks strategies to your main study sessions, the study process will be simpler and feel almost easy, because you now know exactly what to do each day.

You might even start to enjoy the study process (more than you ever have before) because you're understanding the material and moving through lessons easily.

Don't be surprised if your co-workers ask you what your secret is when you start passing section after section.

EASILY REVIEW ANYTIME, ANYWHERE: The companion apps for iPhone and Android allow you to have an effective study session anytime, anywhere. Take a quiz as you walk across the office… Read the notes while you wait for a meeting to start… Listen to the audios whenever you're in your car…

These "mini session" add up and will pay huge dividends over the course of your study timeline for each section.

GET THAT 4TH PASSING SCORE: This is what it's all about… telling your wife/husband/boyfriend/girlfriend it's finally all over, making your co-workers jealous, and getting back to… WHATEVER YOU WANT in the evenings.

Who are you going to tell first? Where are you going to eat that night to celebrate?
NOTE: This is all of course dependent on you actually using the products like they are intended, which means using them a lot. The CPA exams are difficult and require a lot of study time and dedication to pass. The SuperfastCPA products provide another avenue of fitting in quality study time, but if you aren't using them, they can't help you.
Section Bundles $249 $142
If You Want the Products for a Specific Section
NOTE: If you have all 4 sections left, keep in mind you save a lot more with the Total Bundle
Individual Review Notes $97 $55
Individual Audio Notes $97 $55
Bonuses That Come With Every Bundle Purchase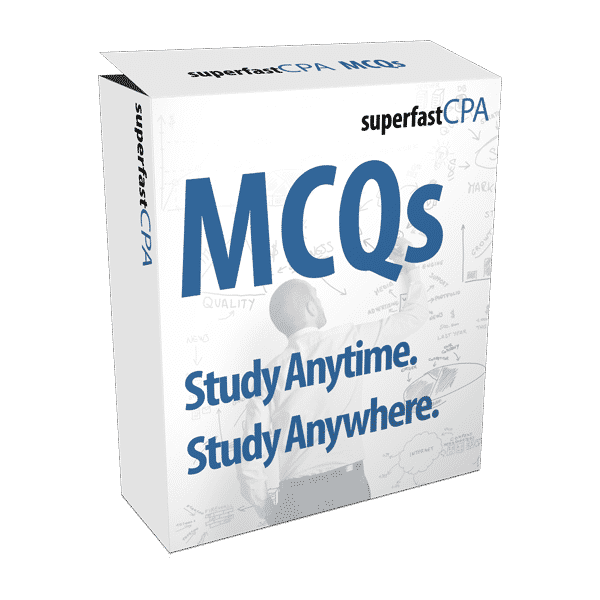 Bonus #1: Mini-Quizzes for Desktop and on the Companion App
These questions are modified with simplified numbers so that you can still practice calculations and formulas on the go. You can do these questions in your head without needing a calculator or scratch paper.
Each section has roughly 300-400 practice questions*.
UPDATE: We have now added (and continue to add) "Mini-SIMs" questions so that within one quiz you're able to practice both MCQ and SIM-type content.
*If you purchase a section bundle, only that section's practice questions are included. All questions and mini-SIMs are included with the Total Bundle.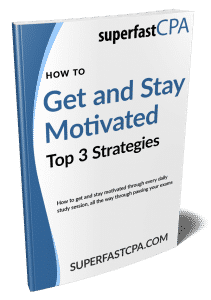 Bonus #2: How to Get and Stay Motivated Through the CPA Process
If you're more than a few months into the CPA study process, you're well aware how hard it can be to just sit down for your daily study session.
This guide provides an exercise and framework that will give you unlimited motivation, so you can sit down each day with a "fire under your a**" (so to speak).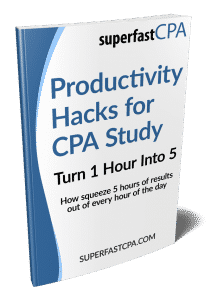 Bonus #3: Productivity Hacks for CPA Study Sessions
If you spend the first 30 minutes to an hour of every study session cruising through your favorite time-waster websites (I know you too well)... then this guide will fix that for you. This gives you 10 specific steps from different angles to make each study session twice as productive.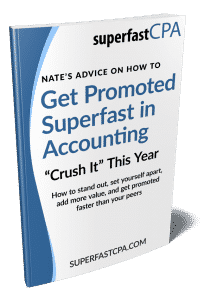 Bonus #4: How to Get Promoted 'Superfast' in Accounting
I actually hope you're someone who doesn't need the advice in this guide, but reminders always help. This provides 8 strategies that top-performers and "partners' pets" all have in common... but without being a needy brown-noser.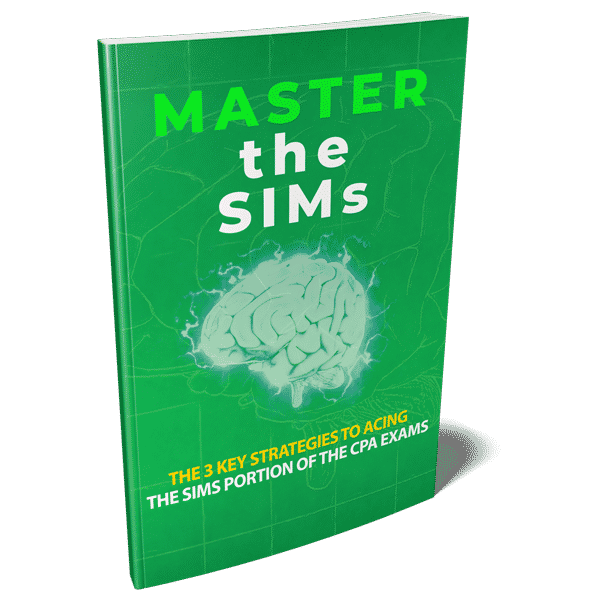 Bonus #5: "Master the SIMs"
If you've already taken a section, you know that the real simulations on test-day will be nastier, harder, and very different than most of what you've seen in your practice SIMs...
So, doing endless practice simulations is NOT the best way to prepare. This guide contains the best strategies to be fully prepared for your test-day SIMs.